Small Batch was founded in 2014 by husband and wife dream-team, William and Holly Plant, with William specialising in the visually creative and Holly as the eloquent wordsmith. Chloe Roberts joined Small Batch in 2018 as a Project Manager and SEO consultant. Sadly, Holly passed away in 2019 after a 2 year long battle with cancer though we miss her every day, Small Batch continues with the same values originally set out by Holly and William. We still love working with SME's and continue to provide creative digital services to the hospitality, retail and leisure trades.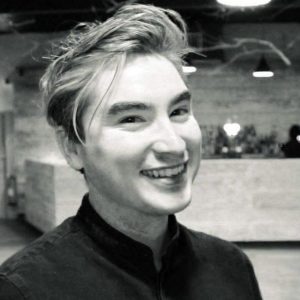 William Plant – Creative Director
Graduating from Liverpool's John Moores University in 2009 with a degree in Interaction Design for Entertainment Media, William soon became an accomplished and unique Graphic Designer. In 2013 William delved into the world of web development, shortly before teaming up with Holly to create Small Batch. He's inspired by bold colours, animations and imaginative design. 
Chloe Roberts – Operations Director
Originally coming from a behind-the-scenes theatre background, Chloe specialises in SME Business Development, Project Management and SEO. She's apt at developing digital strategy to promote business growth and currently has over 10 businesses that she helps steer. She loves a challenge and thrives off seeing independent businesses grow into strong, sustainable enterprises. 
Freelance Staff
We have a team of experienced freelancers that work with us, most of which are UK based. They are all at the top of their chosen field and all thoroughly love what they do! From B2C Marketing Managers to Adwords Specialists, Javascript Dev's to Packaging Designers. Small Batch has you covered with a team that collaborates well, has bundles of pride in their work, and gets great results time and time again.